S&S 11-0402 Shorty Super E Carburetor Kit 66-E78 Harley-Davidson Shovelhead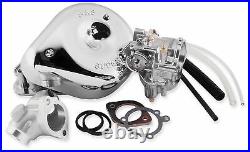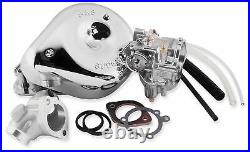 NOTE: S&S Super E & G carburetors require the use of a two-cable, pull open/pull close throttle assembly; S&S kits are compatible with stock cables except as noted. IMPORTANT NOTE: Recommended for racing only, this carburetor is not legal for use in California on motor vehicles operated on public highways or in other states where similar pollution laws may apply. User must determine the suitability of the product for his or her use and assumes all risk and liability in connection therewith. Before you unwrap your parts double check your fitment and once unwrapped, look the item over before trying to install it. If you can snap a picture of the damage and notify us ASAP we can replace the order right away.
Notify us right away so we start the process. We're happy to step in and get the ball rolling. An estimated restock date will be provided at the time of cancellation.